FOG meets every month at its launch site on South Row, Redwick.
There are many ways of getting to the site, depending how well you know the area. This is the simplest route for first-time visitors:
Leave the M4 at J23A (Magor Services) and head south on the A4810
Carry on down this road for about 1.5 miles, going straight over the 2 roundabouts
Turn left for Redwick as you pass the wind turbine on your right.
Follow the Redwick road for about 1.5 miles until you hit a T junction.
Turn right, and follow this road as it loops through the village, passing the church on the right and the Rose Inn on the left.
Follow this road past the pub, looking out for the rocket fliers on the right.
A printable version of this map, with directions, can be downloaded from HERE.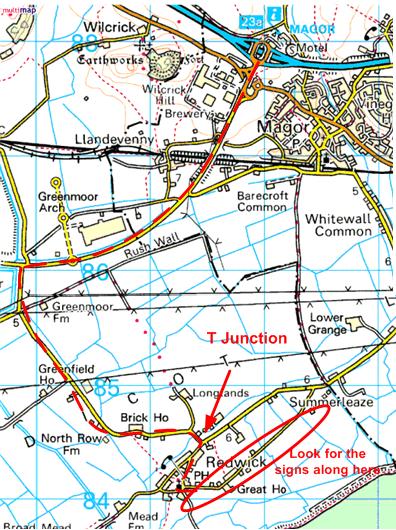 The launch site comprises a set of fields separated by low hedges and ditches with a a few trees.  There is plenty of parking along the road, and access is through gates.
This image from Google Earth gives an idea of the extent of the fields that FOG have available for launching and recovery.  It's a huge site with lots of  space for rocket flying.  The image shows the normal entry points and launch locations, which are selected on the day depending on the wind direction.
The farm is low lying so there are several drainage ditches, some of which are quite deep.  Some of the few bridges are capable of taking tractors. Many are railway sleepers or planks which need to be crossed with care.  One, nicknamed 'the Bridge of Doom' is a length of crash barrier on its side over a deep ditch.  It is recommended that no-one crosses this bridge unaccompanied.
A printable copy of the Range Map can be downloaded from HERE.